About us > WELCOME
Imagine a world in which every child has clean water to drink and access to sanitation … school is a place to learn and become engaged in participatory and empowering education … homes and communities have gardens that grow healthy food to eat … every child has a favorite tree … a safe place to play … a life filled with peace and prosperity.
Welcome to the future Earth Child Institute is helping to build.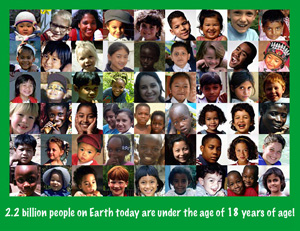 Earth Child Institute (ECI) is an international non-profit organization committed to combating climate change, deforestation, and water scarcity by investing in hands-on environmental and educational projects with and for children, both in and out of schools. We engage with and support empowerment of the world's 2.2 billion people under the age of 18 to facilitate the planting of trees and to ensure access to safe water, sanitation, clean energy, and nutritious food.
While environmental degradation is global in magnitude, the daily challenges are largely experienced at the community level, where children, young people, and their families live. Every child has the right to a healthy, productive, and dignified life, and ECI believes that taking care of the environment we all depend on for life is the key to protecting this right. That is why ECI is dedicated to creating new and participatory solutions for community-based sustainable development that will reduce risk and increase resilience to the changing global environment.
What makes ECI different?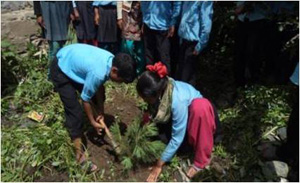 ECI's work is about teaching children how to care for their environment through simple actions such as planting and caring for trees! Learning about how the tree is connected to their own lives through applied knowledge rather than by going to a forest to look around as if visiting a museum or just reading about it in a book is life-changing for children.
ECI facilitates intergenerational dialogue by providing tailored tools and supporting structures for both children and adults that help children develop both life skills and analytical skills, a collective sense of personal responsibility and connectedness, and the ability to adapt to changing circumstances.
ECI builds bridges and bonds between and across sectors in countries at both the local and global levels by working with institutions and other civil society partners on projects and programmes. ECI works toward its goals of empowering today's youth via in action-oriented behavior and giving them a voice in the policymaking processes that impact the conditions of their lives by facilitating increased engagement and awareness.
Whether you are:
a Government minister seeking to ensure that the rights, needs, and capabilities of children are reflected in the policies on environmental governance related to climate change, water and sanitation, clean energy, and REDD+;
a UN organization seeking to support the participation of children in an intergovernmental event or process;
a private sector company seeking a win-win scenario for corporate social responsibility that will improve the lives of children;
a community-based organization or youth facilitator wanting to network with other like-minded leaders to share best practices and lessons learned;
a classroom teacher, parent, or team leader looking for participatory educational resources;
or a girl or boy who wants to learn about how to help protect your environment or to connect with other kids around the world who are trying to make Earth a better place …
Earth Child Institute can help you achieve your goals!
If you do not find what you are looking for here on our web site, please contact us for more information.
< Back to About us