---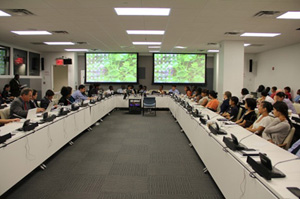 On July 25th, 2011, during the United Nations High-Level Meeting on Youth at the United Nations in New York, a panel of youth leaders from around the world shared their experiences working with children and young people on environmental and climate change action. True to the theme of the high-level meeting, organizers ensured that all speakers, including the moderator, were young people between the ages of 18 and 25, each empowered to share their experiences with an audience of elder delegates and peers. Presentations highlighted effective practices for youth-to-child mentoring and peer-to-peer learning for action on the environment, climate change and sustainable development in Kenya, Haiti, Nepal, the United States, and other parts of the world. A central message from the panel was that while climate change poses one of the most serious challenges to reducing global poverty and achieving sustainable development, youth-led action on climate issues also offers an opportunity for enhancing inter-generational dialogue and action.
The side event was associated with the United Nations High-Level Meeting on Youth in which youth participation and dialogue were recognized as indispensable elements of sustainable development, as a culmination of the International Year of Youth. Co-organized by the Earth Child Institute (ECI), the United Nations Environment Programmme (UNEP), the World Association of Girl Guides and Girl Scouts (WAGGGS), the Brookings Institution's Center for Universal Education, and in partnership with the United Nations Children's Fund (UNICEF), the panel event attracted an enthusiastic, standing room only audience of young people and adults. Among policymakers in attendance, a member of the Indian Parliament, His Excellency Mr. Hamdullah Sayeed affirmed that "youth constitute the vibrant and dynamic segment of any society. They are also the most valuable human resource in any country."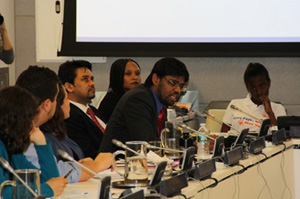 Alex Lin, a former member of the UNEP Tunza Junior Board and a youth activist from the United States, spoke about his work with younger children, peers, and the state government in Rhode Island on electronic waste and recycling. Yvonne Maingey, who has been involved in UNEP's Tunza program, which engages young people in environmental activities, from the age of 13, spoke about the importance of both education and empowerment for effective youth leadership. Like Alex, Yvonne highlighted the need to cultivate youth leadership by enabling consistent engagement throughout a child and young person's development.
The positive impact of youth leadership on environmental and climate issues was echoed in Miriam Otieno's presentation, who stated that "when one young person is empowered and educated, there is a ripple effect throughout the community." Miriam, a member of WAGGGS, highlighted the organization's inter-generational work at local and global levels with girls and young women leading environmental and climate action.
Marie Moise, a UNICEF Climate Ambassador from Haiti, passionately spoke of her and other young people's involvement in Haiti's reconstruction and in educating the population about climate change and disaster risk reduction strategies. She said that as youth leaders, she and the others in the delegation of Haitian youth at the UN meeting believe their work towards a more sustainable Haiti will not only have an impact in Haiti, but also on the rest of the world. The final presentation prepared by Prem Bohara, a motivated youth leader and founder of ECI Nepal, inspired by a passion to make a positive change in the Karnali region of Nepal through the empowerment of children, was presented by ECI's Program Director, Lyly Njinga. The presentation highlighted the approach ECI Nepal's youth-led organization takes to engage children in of tree planting activities in schools, educate them on water and sanitation issues, encourage inter-generational dialogue, and the transfer of indigenous knowledge through wider community participation.