ECI Campaigns/Take Action > GLOBAL ACTION CLASSROOM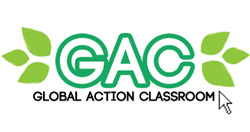 The Power of One Child – Global Action Classroom, an innovative, digital, and hands-on exchange project of the ECI in collaboration with the Environmental Conservation Education program at New York University, is an international youth-led initiative for child engagement focusing on connecting children from different countries around the world who are taking action to improve their local environments.
See the Activity Plan: GAC Activity Plan 2013
Learn how to post: Watch here
View the most recent GAC Activity: Look at what our teams have been up to!
Visit the Team Action Pages!
ECI's GAC campaign seeks to connect children and youth to share environmental ideas and stories. We provide:
An online interactive classroom where children in different countries can connect directly over a video conference call
Our partners with flipcams so children can document their stories and can upload the footage for ECI to share
"Our goal is: to cross boarders digitally, to foster learning and collaboration on a global scale" The majority of site partners have been identified and communicated with:
Brazil – GAC has been implemented in the country to connect kids and young people to discuss environmental issues. We are working in cities (such as Rio de Janeiro, where the ECI Team is located) as well as in rural areas (such as small villages in the Amazon Rainforest).
Nigeria – HACEY, a Power of One Child implementing partner, in collaboration with local schools and the Ministry of Environment, is planning a kids group with focus on water, sanitation and hygiene education for the project.
Ghana – ECI Ghana plans to work in partnership with the Ministry of Education, the Forestry department, and local schools and institutions to focus on environmental education and tree planting.
Qatar – Youth leaders are working with local schools in Doha to identify a participating school team for the project.
Nepal – Youth-led Green School campaigns will focus on tree planting and climate change education.
U.S. – In collaboration with the IS Foundation, the "Kids Mobsters," who are elementary-aged child activists, will participate as a team focusing on environmental action.
Seychelles – in collaboration with the Ministry of Environment, the team will focus on local actions of children to address climate change on an endangered small island state.
< Back to ECI Campaigns/Take Action